After a long drive, Patrick and Patricia, friends from Brazil, as well as Todd, a U.S. friend, and me finally arrived in Agra, city of the Taj Mahal. We checked in to the Mughal Sheraton, an upscale hotel, pretty much like any Sheraton, I guess. Since we had left early in the morning, despite the long drive, it was still early afternoon, so we decided to visit the two main attractions of Agra: The Agra fort and the Taj Mahal.
Below you can see some random photos of the Agra fort. At different times in its history, it has served different purposes: First as a fort (garrison), then as a palace, and finally as a prison.
Assorted Agra fort photos
From the Agra fort, we could already gather at glimpse of the Taj Mahal. We decided to go there close to the closing deadline, because Patricia was hoping to be the last one out: Supposedly, you would hear the wind whisper through the Taj Mahal, when everything quieted down. An unfortunate consequence of this is the subdued quality of my photos.
Assorted Taj Mahal photos
The Taj Mahal was quite beautiful though not as stunning as I had expected. Of course we didn't manage to stay until the end. I thought the place was crowded, because it was Sunday, and all the locals were visiting. According to our driver, however, we were lucky that it was so empty, because it was the low season. Otherwise we might have waited for hours to get in.
The local tourists were quite friendly. Amazingly enough, for them, we were the exotic part of the picture! Every single one of us was chatted up by some local and asked whether we wouldn't be willing to pose for their photo album with them!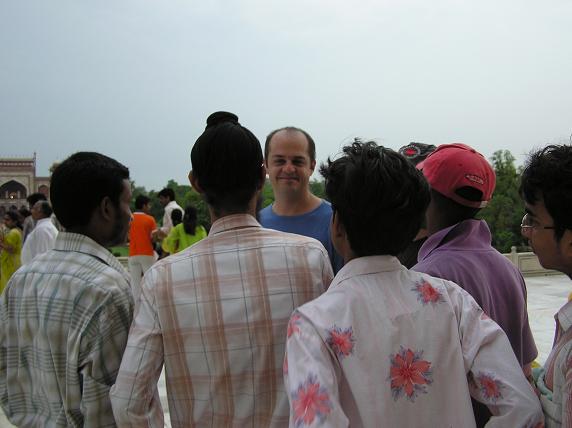 Patrick, the exotic element
I first thought about charging them, but then figured how unfriendly a gesture this was. Anyway, they would have laughed and shrugged it of. Nevertheless, as a surprising twist to our visit this was quite some fun.