What's wrong with this picture? It is difficult, but if you think hard, you can guess it. Give it a try.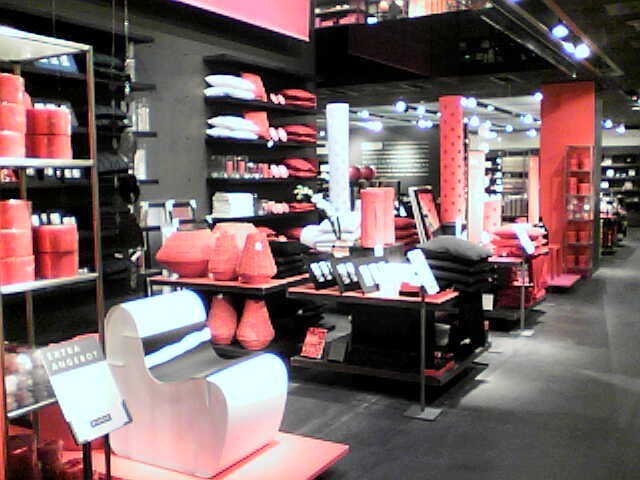 Globus in Zurich, 4th Floor
Well, it is the smell. An undefined smell of overwhelming coziness, that is. What is worrisome is that this is not some cheap Crate&Barrel copycat store in the U.S. but rather the 4th floor of Globus, one of the best department stores in Zurich. A year ago, when I last was in Zurich, I don't recall being exposed to such sales tactics. It appears American methods have gained a stronger foothold over the last year. Soon, I'm sure, I'll find myself in a rain forest when shopping for some housewares.
For myself, observing the differences between the Bay Area, Berlin, and Zurich is most interesting. Having moved to Berlin, I quickly got used to the low cost of living, and entering a high-cost place like Zurich made me scratch my head. Some examples:
A small cappuccino at Starbucks costs SFR 4,80. (Don't kill me, there is a reason of existence for Starbucks in Zurich, see below.) SFR 4,80 at current exchange rates translates to $4.00. Last thing I remember is you pay about $2 in the U.S. for a cappuccino. A döner costs SFR 8 or €5,14 (rather than €2 as in Berlin). A Kitchen Aid Artisan kitchen machine, hardly the high end, costs SFR 749 or $625 in Zurich, where you can buy it at Costco in the U.S. for $250. The ice cube machine is SFR 999 or $830. In the U.S. it comes for free with most refrigerators. Any grey importer or arbitrageur out there?
Since you probably think by now that I'm a totally insensitive person given that I'm visiting such a beautiful city and all I do is complain about the prices, here are few photos shot with my cell phone. It was a beautiful winter afternoon, and Zurich was flooded with sunlight.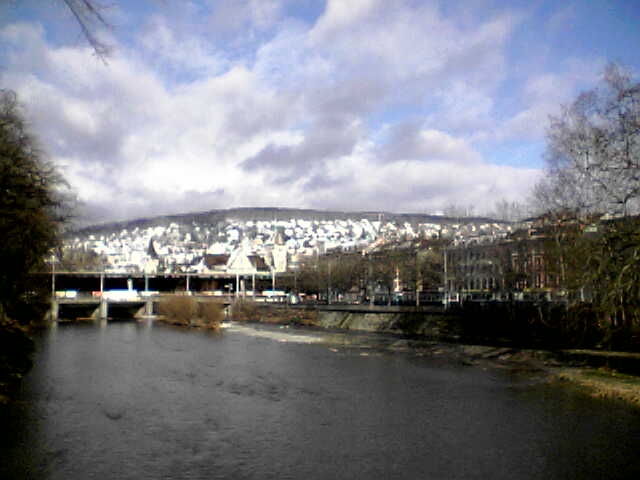 Zurich Sihlquai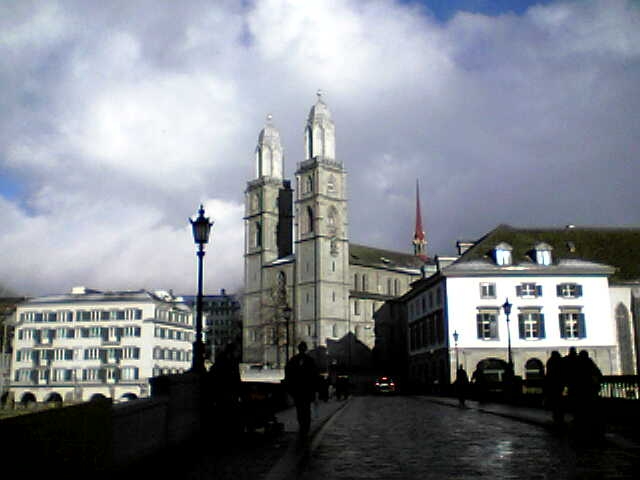 Zurich Grossmünster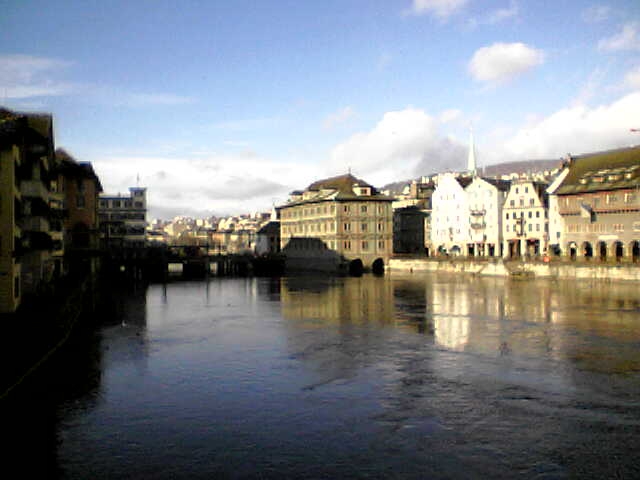 The Limmat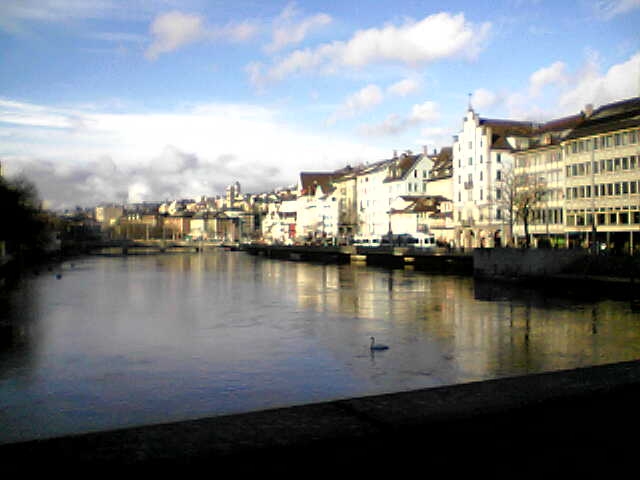 The Limmat from a different bridge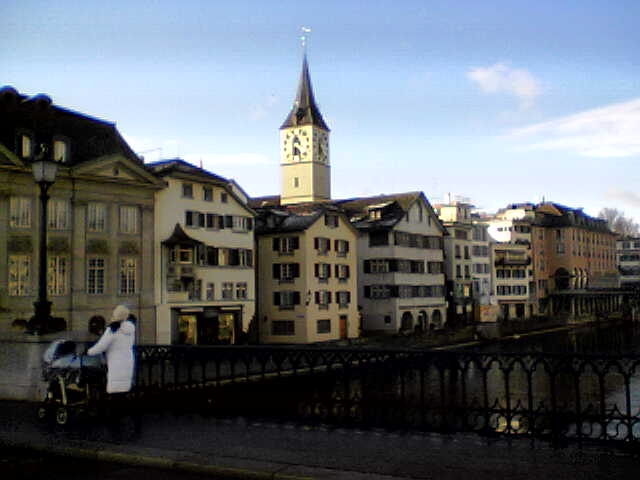 Some Zurich houses
Zurich Bahnhofstrasse from Au Premier
While those photos may be interesting or even beautiful, I'm usually more intrigued by the social aspects of regular life and how it finds its various expressions. Below, you can see some Zurich citizens following one of their favorite pasttime activities.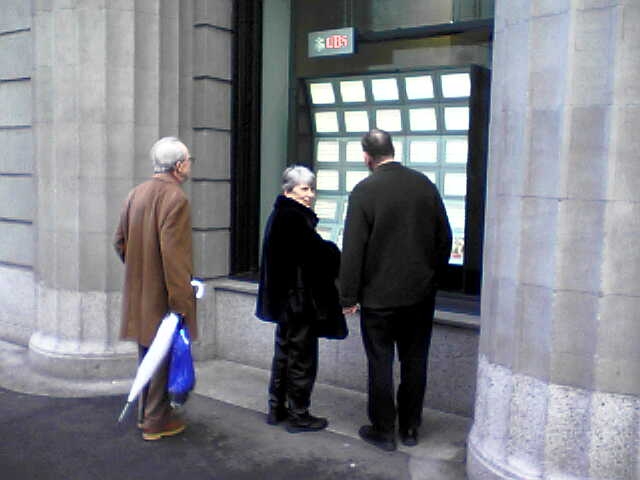 Locals watching stock exchange ticks in front of UBS' main building
And, in case you ever wondered whether this is truly an alpine people, let me reassure you: They are. Below you can look down from the top floor of Zurich's main bookstore to the bottom floor.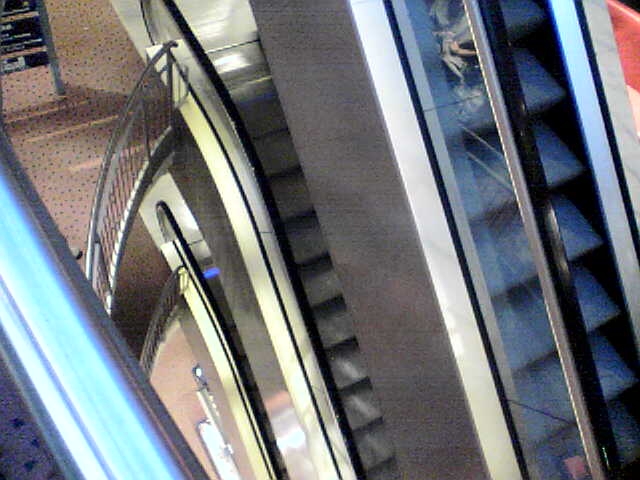 Escalators at Orell Füssli
As you might be able to see, the escalators are only leading up, not down. In fact, there are no escalators that could bring you down anywhere else in the building (and that are publicly accessible). Rather you have to take the stairs to get down. It is just like taking a train up a mountain and walking down, another favorite Swiss family activity.
Ok, and now: Why would there be a place for Starbucks in Zurich? Just for tourists? No... Starbucks offers two main product features that a Swiss cafe does not provide: You can take out your coffee, and you can customize it to your needs. Try telling a Swiss Cafe waiter that you want his precious cappuccino in a paper cup and that you want it bone-dry rather than the way he thinks it should be... See also American Coffee Culture.
Dirk Riehle
Zurich, February 14, 2005