These are my experiences with moving my household transatlantic: From Europe to the U.S. and back. I had two options in each case: To use a full-service provider who would handle everything, or to use an agent, where I would have to do the packing and take care of some of the logistics myself. The first variant is easy and straightforward, but expensive. The second variant is cheaper, but can get messy and outright annoying.
Full service provider
In 1999, I moved from Zürich to Boston. My company was paying, so I used a Zürich-based full-service provider. The service provider showed up at my place one day with a couple of people, who stowed away my apartment into a 20 foot container. I saw my stuff again a few months later, in Boston, where it had been trucked from NYC. I had to pay upon packing in Zürich (not upon receipt). In 1999, the move amounted to about CHF 8000.
The movers who brought my stuff to Boston were obliged not just to carry all the stuff into the apartment but to build up all the furniture etc. (Full service, that is.) However, they were only two, had come late, and I didn't trust them anyway to treat my precious stuff well. There is a difference between being the owner of something and being a mover who handles stuff that is insured against breaking. In any case, the move had been a piece of cake, and all I lost was a coffee mug that broke.
Moving stuff yourself
In 2004 I decided to move back to Europe, to Germany, to start a company. This time nobody else was paying, so I decided to play it cheap(er) and handle some of the moving myself. Basically this means you pack yourself, have it shipped, possibly see it through customs yourself, and unpack it yourself. Here, again, there were two options, depending on the size: To use a crate (Holzverschlag) for a smaller volume, or to use a 20 foot container for more stuff. I needed both, because I had a small household in California, and a larger household in Boston.
In California, I put everything into boxes and into a van, and drove it to the agent's location, where I dropped it off. The agent then shrink-wrapped my stuff and put a wooden shipping crate around it. (You can do without the shipping crate and have your stuff shrink-wrapped only, but this depends on how much you worry about your things breaking or getting scratches.) The total volume was about 6m3 --- just right for a crate rather than a container. I paid upon delivery. Pricing was based on volume, 1cft cost $5 to Berlin. ($3.5 to Bremerhaven.) Add the crate and insurance, and it amounted to about USD 1800. Insurance was 2% on total replacement value for total loss as well as individual breakage.
In Germany then, the crate was to be picked up by myself at a warehouse. Exhausted from unpacking my 20 foot container a few days earlier (see below), I had the crate delivered to my house. It was a major issue to get it into the house on the bottom floor. The delivery truck driver had almost dropped it onto the street and left it there. He would not have left though, as he wanted money from me. The U.S. agent had warned me of additional charges of USD 200 that I would have to pay, so I was prepared. However, the USD 200 had turned into miscellaneous charges of a total of EUR 250, to which I had to add EUR 120 for residential delivery. I had to dismantle the crate and move the stuff into my apartment myself. I still have to get rid of the crate, so I'm trying to sell it through eBay.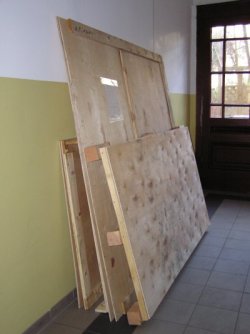 The shipping crate. Anyone moving from Berlin to the U.S. soon?

For shipping my original household from Boston to Berlin, Germany, I used the same San Francisco-based agent I used for the crate. He organized that a truck with a 20 foot container showed up on-time at the U-Haul storage space, where most of my stuff had been stowed away for the last few years. Together with a friend, we worked three hours to move all the things into the container, and make it sea-ready. (Meaning, to store it away and tie it down in such a way that nothing bad would happen when the container was being shaken by either a crane or the high sea. I had packed everything in boxes, we packed it to an even height and tied it down, so that nothing could fly around.) Three hours was one hour more than what I had paid for, but the friendly driver didn't care. All of this was prepaid through the S.F. agent, and it cost me about USD 3000, for the container, various charges, and insurance. Here, because we packed ourselves, insurance was only for total loss. That is the container would have to fall off the ship or be stolen for insurance to kick in.

In Germany then, I had to manage the container through customs myself. I had to drive to the customs post Dreilinden in Berlin, provide a packing list and other documents in triplicates, and sign some stuff. This was it! They didn't even bother to open the container and check whether packing list and container contents matched. Together with a student I found through TUSMA (student temp agency, that is, cheap labor), I unpacked the container in about 2 1/2 hours. The container itself took little more than an hour, but we only moved stuff into the house on the bottom floor, so that the truck would be free to leave in time.

The German side of handling the truck represented one of my worst customer experiences ever. As I describe elsewhere, this German agent tried to take me for a ride (and somewhat successfully did so). Everything was supposed to have been prepaid in the United States, however, I only got the container after wiring another EUR 250 for various sometimes egregious charges.

While I haven't unpacked everything, things seem to have arrived in good shape. Except for one thing, everything seems complete. Unfortunately, this one thing is a key piece of my bed, so for the time being, my futon is lying on the floor. I think this is just bad luck, not a sign of incompetence or malfeasance.
Summary
In retrospect, I don't know whether I saved a lot of money by not using a full-service provider. Total cost to me was about USD 5900, where the full-service provider who had originally shipped my stuff to the U.S. had quoted me USD 8100. So this sounds good, but it was quite messy and does not account for my own work. It proved to be a good physical workout, though.
Despite the hassles, it was interesting. Some of the complications arised from this being a long chain of involved people. Just to have the crate delivered from the ship that arrived in Bremerhaven to my house door took about 7 stations, if I can believe the people I spoke with. So the full-service providers may well be worth their money.
Also, I don't know whether the abuse I experienced is typical of this industry. Surely, I felt that the people I talked with were on the short-worded side, leaving little room for courtesy and cursing a lot. I guess it depends on how thick your skin is whether you want to deal with this industry in more detail.
In summary, while (almost) everything worked out, I think I got ripped off a few times here and there, where I paid for services that were not provided, or paid for the same service twice, of paid for unanticipated but ultimately necessary service. It is difficult to tell, as a number of things hide behind obscure charges, and you are only presented with those charges when the power is in the agent's hands. So you might try talking everything through, but don't be surprised if things don't work out according to plan.
---
PS: If you have a specific question, let me know. Maybe I can answer it. Just send me email.
PPS: The crate got sold for EUR 1 on eBay Germany... Much much better than have a professional service remove it for EUR 100.